TRAINING, AT LAST
I went back to work as a railroad brakeman in Arkansas City, KS until October, 1942, when I reported to Kelly Field, TX in San Antonio. They called it "Tent City" because there were so many inductees coming into the service there weren't enough barracks. They had no training facilities yet, so they had me doing menial jobs. Then, I was shunted to Ellington Field, Texas in Houston.
I stayed there until, at San Marcos, Texas, the navigation school was opened. I was in the first navigation class 43-9-4 to go through San Marcos.
Previously, we had been asked to choose whether we wanted to be pilot, bombardier or navigator. If you wanted to be a pilot, you checked the number one box. Navigator was two, and bombardier was three. I was good at math and they needed navigators. I put down "2,2,2" for my first, second, and third choices. I felt I had a better chance of completing the course as a navigator than as a pilot.
Navigation school was very intense. We were roused before dawn, ate breakfast, and in class by 7:00 a.m. We were allowed one hour for lunch and then back in class until 6:00 p.m. Later, when we were placed on aviation cadet navigational flight training status, any hours we spent in the air detracted from the classroom hours. The classroom hours had to be made up after 6:00. Because most navigation flights lasted five to six hours, this meant a terrific workload after you landed.
Probably the thing that I remember most about flight training was that each airplane had three students. One plotted the course, and the second and third students tracked the course of the plane. Of the three students in my plane, two of them got sick immediately on takeoff--urping in their little sacks. The odor saturated the plane making the pilot mad and it made it very difficult for me to keep from throwing up. Just retribution was at hand though, because those that upchucked had to clean the plane.
I got my wings in June, 1943. 1 was sent to Walla Walla, Washington for further training. Crew assignments were made here.
The crew consisted of Pilot, Fewer Edmund McGee; Co-Pilot, Bruce Parsons; Bombardier, Jack E. Hill; Navigator, Ed Moore; Engineer, William Graham; Radio, Getsey; plus there were other positions such as assistant radio & right gunner, left gunner, ball turret, and tail gunner.
The Wolf and her crew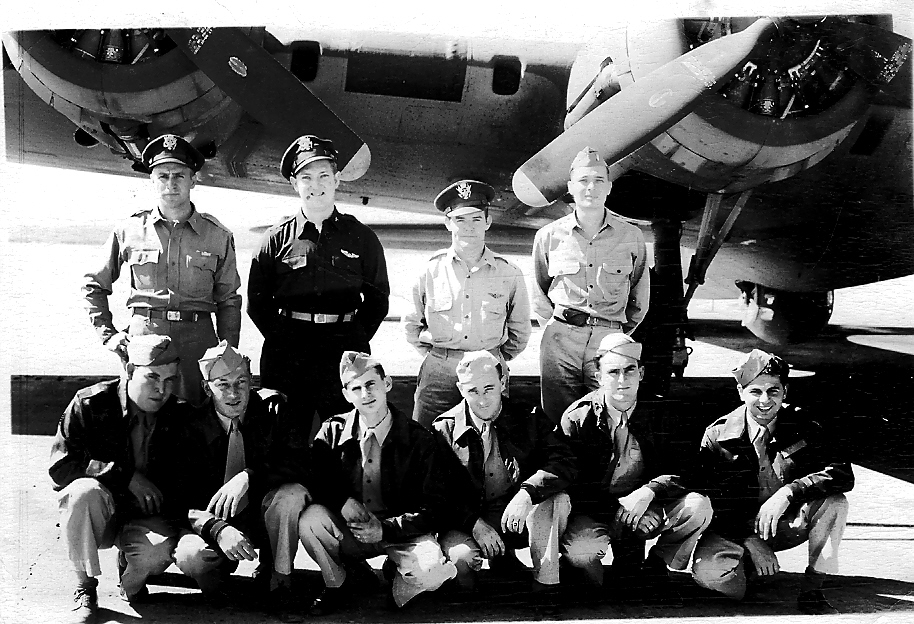 Left to right, back row: E. F. McGee, pilot (P.O.W.--survived the war); B. Parsons, co-pilot (survived the war--not on final mission of The Wolf); J. Hill, bombardier (K.I.A. in mission with author in the Oklahoma Okie); the author, E. L. Moore, navigator (P.O.W.--shot down in Oklahoma Okie).
Left to right, front row: W. Graham, engineer and top turret gunner (P.O.W.--survived the war); V. Kaschok, assistant engineer and waist gunner (P.O.W.--survived the war); W. Getsey , radio operator (died in P.O.W. camp per Graham); T. McMennimen, ball turret gunner (K.I.A. on last mission of The Wolf); N. Kirkpatrick, waist gunner (K.I.A. on last mission of The Wolf); N. DelAmento, tail gunner (Transferred to another crew?)
Not shown: D. Bodine, tail gunner (P.O.W.--survived the war); Sweyer, co-pilot on final mission of The Wolf (status unknown); Bauer, bombardier (K.I.A on last mission of The Wolf); Vandermire, navigator on last mission of The Wolf (status unknown).


Home

Back

Next
---