HEADING HOME
From Anaburg we boarded a train to Swinemunde. There, we boarded a ferry that took us 60 miles across the Baltic to Sweden.
We were put on a train and moved into Goteborg, Sweden. At the station, we saw other prisoners parallel to us. The Swedish consulate told us that this was the exchange point. The exchange rate was 10 wounded Germans for one wounded American. The Swedish Consulate gave us money and a lot of care and attention. He was extremely nice.
We were not allowed off the train, but there were people who would go into town to buy things for the prisoners. Using the money from the consulate, I bought an Orefors crystal cream and pitcher set for Mrs. Phillips. I bought Hazel a sterling silver bracelet.
After the exchange was made, we boarded the Gripsholm, a hospital ship. We went up the coast to Trondheim, Norway. From there we crossed the North Sea to London.
They fed me very well on the Gripsholm, which was a converted cruise ship. The food was such a departure from what we had in the prison camp, it was like being in heaven.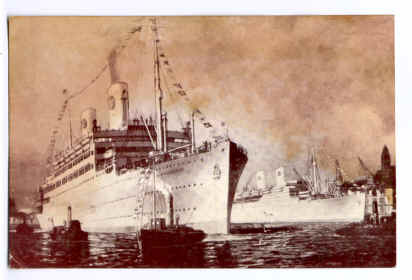 A postcard of the hospital ship Gripsholm. Author's collection.
The hospital at Staten Island meant to put weight back on us. I was shipped to Topeka, Kansas, about a week later to Winter General Hospital. Then, I was placed on a thirty day furlough. My family and everyone we visited fed me. My weight soared to 245 pounds before I got a grip on myself and turned the gain around.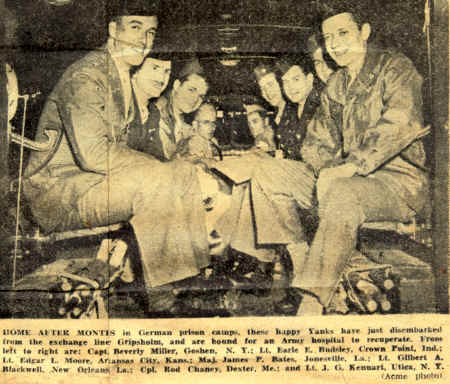 October 9, 1944 edition of Stars and Stripes. Author's collection.
Then, Winter General gave me a physical exam before they sent me on to Fort Logan, Colorado. It was decided that there would be no more operations, but that they would try to bring me back to full function through physical therapy. This consisted of swimming and massages at the downtown Denver YMCA and lasted until July, 1945, when I was retired from the Army Air Corps.

I didn't want to be retired. When the doctors told me that I had been put up for retirement, I couldn't argue. I was assigned a time to meet the retirement board which I purposely missed. A new time was assigned and again I missed it. A third time was assigned and one morning there was a knock on our apartment door (we lived off base). Two Air Police informed me that they were taking me to meet the retirement board. When I got there, the two personal physicians told me that when the board asked if I wanted to be retired to be damn sure to say "yes."
My total time in service included the six-month furlough at the start. It had been three years and eighteen days.

Home

Back
---