A FUNERAL AT Annaburg, GERMANY
In July, 1944, the board gave me a slip of paper saying I would be on the next group heading out. In August of 1944, I was moved to a camp in Annaburg, Germany with the repatriates who had been gathered from all of Germany.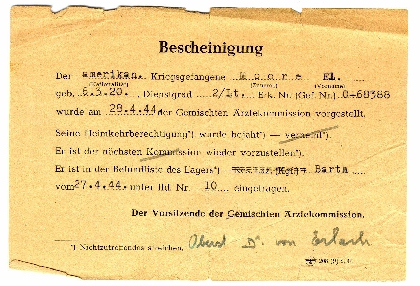 Repatriation form. Author's collection

This camp was a baronial mansion, surrounded with a double row of barbed wire (eight feet tall) just as we had around the prison camp in Stalag Luft 1. But, instead of the rolled barbed wire between the two rows of wire, they had planted sunflowers. There was one gate, resembling a western ranch's cattle gate, guarded by an old German who must have been 65. The gate was never kept locked. We knew we were going home the fastest way possible. Who would be stupid enough to try to escape?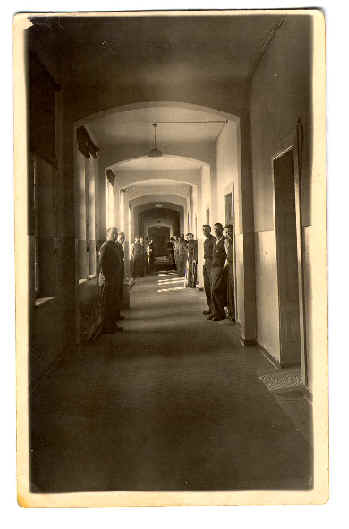 Inside the camp at Annaburg. The author shared a room with the man wearing the crutches. Author's collection.
We had a mental case who did escape. He got into a town about 40 kilometers away. It was obvious he wasn't German. He ran when the soldier told him to stop, so the soldier shot and killed him.
We had his funeral in the camp, outside the minimum security area. The German commandant and his staff laid a funeral wreath on the grave.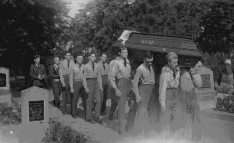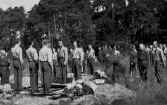 Funeral procession at left and the laying of a wreath by the German commandant at right. Author's collection.
Life, food, and liquor in this camp were better than at Stalag Luft 1. The dried fruit liquor was tastier. Somehow they got a lemon which they would slice into the bottom of the jug.
I had appropriated a record of the Warsaw Concerto and a little phonograph from somewhere. I played it incessantly. My roommates banished me to a ledge just outside the window. I would sit there playing this music for long stretches of time.
The Germans would allow us to go to the countryside to pick blackberries and raspberries. We would form into a group in the compound where we were assigned one guard with a pistol. He would lead us to the berries in the gardens of the townspeople who were away tending to the war.
The guard would then go to the pub while we wandered around. When we were through, we would go to the pub, pick him up, and return to camp. These berries, when mixed with a heavy mixture of powdered milk (resembling cream) were fantastic.
The clothes I was wearing when I boarded the hospital ship were the same clothes I had been wearing the day I was shot down. However, the Germans supplied the shoes. I still wore them when I landed in Staten Island.

Home

Back

Next
---